Thank you for your interest in Emerald by Erchonia.
A qualified sales representative will contact you shortly.
An Overview of
Erchonia
Erchonia is a 25-year-old corporation dedicated to the legitimate advancement of low-level laser therapy. One of our most significant achievements was our medical breakthroughs in the area of cold laser lipolysis. In 2010, Erchonia was the first company to receive FDA clearance for a non-invasive fat loss laser. This game-changing device required the FDA to create a new category called OLI-Fat Reduction Laser and propelled Erchonia to the forefront of the low-level laser research and laser lipolysis forums. Over time, we were able to use accumulated data and technological advances to develop the Emerald Laser. This is the safest and most effective laser fat reduction machine available.
Learn More about Emerald Laser for Your Practice
If you represent a medspa or doctor's office that offers fat reduction to patients, Emerald Laser by Erchonia is expanding our complement of certified providers in markets where our system is underrepresented. Now, you can offer this painless, effective, and cost-effective treatment to your patients at a price that ensures achievability for the patient and profitability for your business. Since 2010, our laser lipolysis systems have been delivering impressive results since FDA clearance and superior outcomes to other fat reduction methods. Contact us today to learn more about these revolutionary devices and our provider application process.
The Most Advanced Non-Invasive Laser Lipolysis Machine Available
Emerald Laser is our latest generation of laser lipolysis devices, producing 23% more energy than our earlier red lasers. Emerald Laser was market cleared after three separate blind clinical trials demonstrated overall body circumference reduction. It is currently the only device to receive FDA clearance to treat individuals with a BMI over 30, which makes our providers able to exclusively treat morbidly obese patients with laser lipo. This professional laser machine utilizes ten low-intensity 532-nanometer lasers to target fat cells in the stomach, hips, back, neck, chin, thighs — virtually anywhere in the human body where adipose cells grow and accumulate.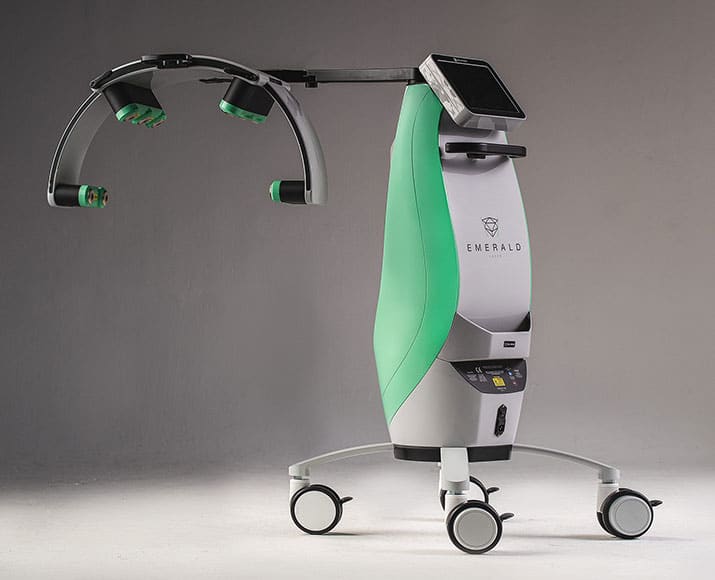 How Non-Invasive Laser Lipolysis Works
Emerald Laser lipolysis is similar to other laser lipo techniques you may already be familiar with. The operator guides the laser diodes over the targeted area at a distance of 4" – 12". Laser light beams penetrate to the adipose cells and bore minute holes in the membrane while simultaneously emulsifying the lipids. It's important to note that this process does not elevate plasma lipids, plasma triglycerides, or cholesterol in the patient. Over the next few weeks, the lipids drain through the pores and are processed by the body's lymphatic system. The adipose cells are not killed during the process, so if the patient begins to acquire new fat, it can be evenly distributed throughout the body.
Advantages Over Other Fat Elimination Tools
Emerald Laser fat reduction treatment is highly marketable because the advantages over other fat reduction systems are immediately apparent and easily explainable to the patient. Among the selling points for Emerald Laser are:
This is a non-invasive procedure.
It's not only performed on an out-patient basis; there is no downtime or convalescence after each treatment. Patients can resume normal activities immediately.
The process is painless, which means that the patient remains awake and there is no local anesthetic requirement. Patients usually feel nothing and those who are able to feel it compare it to a slight tingling.
The process is fast, and each session only takes approximately 30 minutes. Patients can book appointments before or after work or even on their lunch breaks.
After thousands of treatments and several studies, there are no known side effects.
Unlike cryolipolysis (fat freezing) or lipectomy, the fat cells shrink, but they survive the process. This is less risky than a cell-killing process, which can result in fat accumulating in other areas of the body, including near the vital organs.
The Emerald Laser has fast set-up time and runs unattended so your staff can focus on other tasks at hand.
Frequently Asked Questions about Emerald Laser
The best way to learn about the benefits and marketability of Emerald Laser by Erchonia is to contact an account representative. We are happy to walk potential providers through all phases of the process. Here are some of the most frequently asked questions about our laser lipo machine and the process for joining our team of authorized providers.
FAQ
How Can My Practice or Medspa Begin Offering Emerald Laser Lipolysis?
Contact our office and tell us about your interest. We will assign an account rep to you and will go over the details of our licensing agreements.
What Is the Initial Cost Outlay for an Erchonia Liposuction Laser?
We have a make and model for different applications. We also have a structured payment plan for Emerald Laser devices. If you are interested in offering laser lipo to your patients, contact us to discuss pricing and financing options.
What Is the Patient Cost for Treatments?
Our current providers are charging $1,500 to $2,500 for a six-treatment package. This price point has been effective in maintaining profitability and achievability with most patients. Six treatments should be sufficient to show results, making your patients feel that it's money well spent.
What Kind of Routine Maintenance and Calibration Does Emerald Laser Require?
Emerald Laser does not have a routine maintenance schedule, but your device may require repairs or part replacements. We perform all machine maintenance and repairs in-house to ensure safety and quality. We have a three-day to five-day turnaround that does not include shipping time.
How Does Erchonia Ensure Patient and Operator Safety?
All Erchonia devices are developed, designed, and manufactured in compliance with FDA and International Standards for Medical Device Quality requirements. Additionally, we have dozens of machines in operation around the world and thousands of patient experiences. We are constantly gathering information on treatments to ensure that our machines continue to be safe.
Become an Emerald Laser Fat Reduction Provider
Emerald Laser is an unparalleled laser fat reduction machine manufactured by Erchonia. We are excited to introduce this product to new markets and to expand services in existing markets. We believe with the acceptance and growth in popularity of cold laser fat removal, there will be an increased demand for Emerald Laser systems. By becoming a provider now, you can ensure you are breaking in at the ground floor of this global phenomenon and introducing it to your patients before they hear about it from your competitors. Call today to discuss your options.