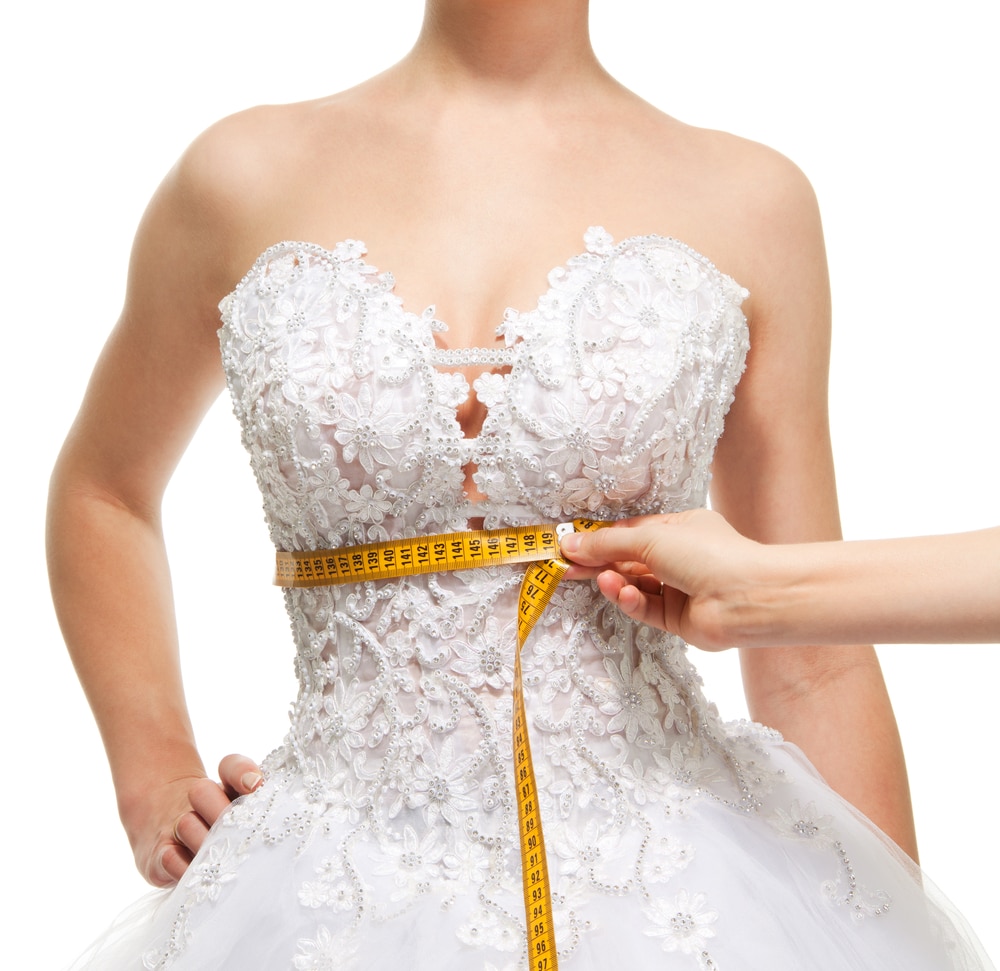 April 8, 2021 4:01 pm
Once you've picked your wedding date, the clock starts ticking. It's time to review and revamp your bridal beauty regimen to ensure you're looking your best and feeling confident on the big day as you walk down the aisle. It may be months before your wedding, but if you wonder how to look your best on your wedding day, it's never too soon to start getting ready.
Looking radiant in your wedding photos on your wedding day requires a plan – you don't want to end up with hair color you hate or a spray tan gone wrong. From hair and makeup to laser fat loss, we've got a health and beauty timeline leading up to the big day that culminates in you looking your best.
Pro tip: Begin a year out or as far from your wedding date as possible.
One Year from Your Wedding Date
1) Make a Stress Relief Strategy
Stress can affect everything from your digestion to your complexion to your sleep, so take steps now to control your wedding planning stress. Recognize what you have control over and what you don't, what is a big deal, and what is an annoyance. Make a stress-relief strategy, such as taking a yoga class, going for a run, or guided meditation.
2) Visit a Dermatologist
Your skin needs a game plan, and a dermatologist can help with that. They can evaluate your complexion and help clear up or minimize any issues. Some treatments take time, so getting an early start will ensure your skin has a healthy glow.
3) Take Care of ALL Your Skin
It's easy to focus on your complexion, but don't forget the rest of your skin, especially the delicate decolletage area. If your wedding dress highlights this area, as most do, now is the time to make sure it will look its best. Pat yourself dry after baths and showers to avoid stressing the delicate skin and moisturize daily.
4) Stop Tweezing Your Brows
That's right, it's easy to go crazy and over-pluck, so stop right now and let them grow into their natural shape. You'll want to make an appointment with an aesthetician for the big day, and by leaving them alone, they'll have more to work with, and your brows will look picture perfect.
5) Make an Appointment with Your Dentist
A show-stopping smile begins with healthy teeth and gums. This is also an excellent time to talk to your dentist about teeth whitening if that is something you think you'll want to do.
6) Keep Your Nails Hydrated
In addition to your smile, your hands will get a ton of attention on the big day as you walk down the aisle carrying your bouquet and in wedding photos. Not to mention any ring selfies you may want to post. Apply oil on your nails every night to keep them hydrated and strong.
7) Give Your Sleeping Habits a Makeover
Sleep is the time when the body regenerates and repairs skin, hair, and muscle tissue. And the state of relaxed breathing that occurs during sleep calms the nervous system and helps reduce stress. This means better-looking skin and hair and a reduction in cortisol, the hormone that makes the body hold on to fat. Turn off all screens about an hour before your go to sleep, turn the lights off, and keep the bedroom comfortably cool.
8) Build Healthy Eating Habits
Start, or maintain healthy eating habits. Fill your plate with plenty of fresh vegetables, whole grains, and lean protein to give your body what it needs to help you look and feel your best. Make sure you are drinking enough water, at least eight 8 oz glasses a day.
Nine Months from Your Wedding Date
9) Schedule Regular Facials
Ensure that your skin will look its best by scheduling regular facials with an aesthetician. Discuss your goals and decide on a plan.
10) Try Out Hair Treatments
If you're thinking of a dramatic change in your hair color for your wedding hair, now is the time to try it out. If you hate it, you still have time to grow it out or safely change the color to one you like better. This goes for hair straightening treatments, too. These treatments often take a toll on the health of your locks, so trying one now will let you know if it works for you and give your hair time to recover if it doesn't.
11) Plan Your Workouts and Meals
If you haven't gotten serious about your diet and exercise routine yet, now you really have to. Make a schedule that includes strength training and cardio workouts and stick to it. Plan your meals, or even prep them in advance so they are ready to go and you won't be lured by something less healthy. Keep your goals in mind for motivation. You'll look glowingly healthy on the big day.
Six Months from Your Wedding Date
12) Add Regular Exfoliation to Your Beauty Routine
If you aren't regularly exfoliating already, and it doesn't irritate your skin, start doing so now. Regular exfoliation with a brightening serum will give you and glow-from-within look on your wedding day. Mix up one part sugar and one part coconut oil for a healthy, exfoliating scrub. Start with once a week and increase to twice weekly if your skin can't tolerate it.
13) Finalize Your Look
Wedding pictures transcend time, so you want to make sure your makeup is on point. Indulge in a hair and makeup trial to be sure you get it right. If you don't generally wear a lot of makeup, you can add a brighter lip or false eyelashes to your everyday look to amp it up a bit. Stay away from anything too extreme or too obvious. Regardless of your typical makeup style, consider consulting a makeup artist to get some tips or an entire look.
Experiment with how to wear your hair: updo, half up / half down, French braid, flowing locks, and double buns are popular wedding hairstyles to choose from.
14) Tone Your Upper Body
If you haven't yet, incorporate upper body toning exercises into your workouts. This not only helps define the muscles in your back, but it can also improve your posture, so you'll look gracefully regal on your wedding day.
15) Laser Fat Removal
If you've been eating a healthy diet and getting plenty of exercise but still have stubborn areas that need slimming, consider laser fat removal. These painless procedures have little to no downtime and can get rid of fat in problematic areas. Be sure to keep up your healthy diet and exercise routine for lasting results.
Two to Three Months from Your Wedding Day
16) Book Your Spray Tan
To get a bronzy glow on the big day, book a spray tan now. Give it a test run so you'll know what to expect, and then book your wedding appointment, so you don't risk not getting one later.
17) Book Regular Manicures
Regular manicures are great for nail health, and you want your hands and nails looking their best. Have a professional manicure every few weeks until your wedding day. Start thinking about your nail color, most wedding experts recommend something neutral. If you do choose a color, make sure it looks good next to your dress and bouquet.
18) Deep Condition Your Hair
Give your tresses some extra care with a deep conditioning treatment. If your hair is super damaged, start this earlier and consider weekly or bi-monthly treatments. For a quick DIY deep conditioning treatment warm up 1/4 cup olive oil or coconut oil. Apply to your hair, leave on for about 30 minutes, then shampoo out.
A Month or Less to Your Wedding
19) Schedule Your Beauty Treatments
Nails, hair, makeup, schedule them all well in advance so you won't be extra stressed in the days before your wedding. You've got enough to do planning the rehearsal dinner, welcoming guests, and more.
20) Lush Lashes
If you've decided on lash extensions, get them three weeks prior to your wedding, and go for a touch-up three days before. If you are going with your natural lashes, invest in a good waterproof mascara, it's an emotional day, and tears are likely to flow. You don't want your mascara to do the same.
21) Mani / Pedi
Get a mani/pedi about two days before the ceremony. You want the polish to look fresh and unchipped. Or choose a gel polish that lasts longer and doesn't chip.
22) The Day Before
Get plenty of rest and drink lots of water so your skin will look its best and all your hard work will be on display.

Tags: wedding day beauty, wedding day body